Memories and Scrap Fabric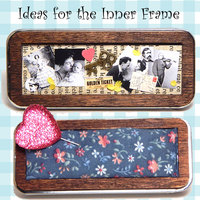 I truly enjoyed creating these small projects for the DIY Tin Slide. The first one on top was a composite of all those tiny photos I made for my miniatures. I also found a Key from another project. Do you also see the tiny post card on it? I thought about preserving this by pouring resin on top but decided against it. Running my fingers on top of the tiny pieces was much more satisfying.
You can pictures of your cats, or dogs or other pets. This DIY project is so versatile. Call it your very own memory box, where you keep your memories on the outside and needles on the inside.
The second project below was made from scrap quilting material. I added some batting and created a mini pin cushion on top of the tin slide! Quick and easy! :)
What will you think of next?